We were truly blessed this year with wonderful sunny dry weather for our annual  plant sale in aid of Christian Aid. The weather I think helped make the sale one of  our best yet which resulted in a near sell out and of course more money for  Christian Aid.
Many thanks to John, Violet, Susan, Laurence, Gill, Sue, Eleanor, Robert, Jim,  Elizabeth, Mary, Isobel, Sandra, Liz, Kathleen and Christina.
Talking of sell outs , that is indeed what happened with the strawberry tea we did  actually have to close the doors as we had run out of supplies.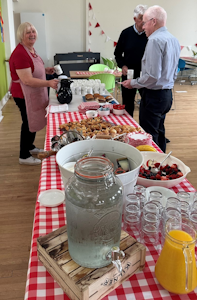 The hall was transformed with the help of John Dawson, my go to man for all things bunting and decoration. John, huge thanks to you for making the hall look so lovely.
The scones, baked again by Celine, continued to be very much  enjoyed and the smell coming from the kitchen whetted everyone's appetite.
As always there  was a wonderful gang of helpers who worked so hard to serve and clear the  tables massive thanks to all who helped with this and also to those that waited to clear the tables and chairs after.
Thanks to Shona, Marje, Isobel, Nancy, Heather, Fiona, Sandra and Sue. I hope I haven't missed anybody. Please accept my apologies if I have.
We finished our  Christian Aid week with the Big Breky and the return of the
buffet table filled with various breakfast goodies both healthy in the form of fruit  and granola and then the not so healthy but very tasty rolls and sausage.  Another great turnout and success with the hall buzzing with chat and folk  enjoying each other's company.
Huge thanks to Nancy, Evelyn and Elizabeth and all who helped put away the  chairs and tables.
The sum raised this year was an incredible £3,560.66 and that's not including  Gift Aid.
Huge thanks to everyone who supports this week and this very worthwhile cause, I am so happy and thrilled with the sum raised and I can't thank you all enough.