It is indeed a privilege and a pleasure to share with you my most recent trip to South Africa.
My son, Bryson, and his wife May met me off the plane in Johannesburg.  We drove to Pretoria, where they now live (about an hour and half drive from Johannesburg).  A lovely drive in glorious sunshine.
Pretoria is indeed a beautiful city.  Known as the "City of Trees" there are miles and miles of straight roads lined with glorious flowering trees, 20ft high.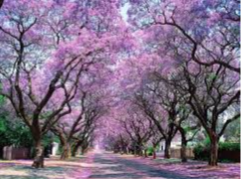 No rest, after lunch that afternoon we visited a beautiful park.  If you can visualise Rouken Glen but on a much larger scale, possibly 5 times the area!  It was the adrenaline and excitement that kept me going that afternoon after my long plane journey.
Bryson lectures on philosophy and theology three days a week, Thursday and Friday preparing lectures and courses.
On my stay they stole the preparation time to give me all their attention.  May teaches English two days a week, so that freed her to give me her full attention during the rest of the week.  Our next visit was to the Union Building, a magnificent building, horseshoe in shape, where Nelson Mandela had his offices.  May said "lets try our luck and see if we can get in".  We were stopped by the guards, no way we were going to get past the guards!  The building is on a high slope, looking down to magnificent gardens and a great expanse of trees and flowers and there, to my amazement, I saw this 20ft high monument erected in Nelson (Madiba) Mandela—the name Nelson was given to him by his English teacher.
There he was standing tall with his arms outstretched and pointing to the sky, my hero, a man of great knowledge, truly one of the world's greatest statesmen.  I was so privileged to sit in my wheelchair and have my photograph taken at his feet.
Our next journey was a 3 hour drive to Soweto to visit Nelson Mandela's house where he lived before being take a political prison on Robben Island for 27 years.  Our guide was excellent, taking time to explain all the memorabilia in the house.  When I looked at his single bed, it brought a lump to my throat and a tear in my eye.  I loved Nelson Mandela so much.  On my living room wall hangs a beautiful picture, around which the following famous quotes are displayed.
Education is the most powerful weapon that you can use to change the world,
If you want to make peace with your enemy, you have to work with your enemy, then he becomes your partner.
There is no passion found in playing small, in settling for a life that is less than the one that you are capable of living.
To deny people their human rights is to challenge their very humanity.
It always seems impossible until it is done.
Our next trip was to the Voortrekker Museum.
It was most interesting to see how they dressed; the only mode of transport being a four-wheeled horse drawn cart.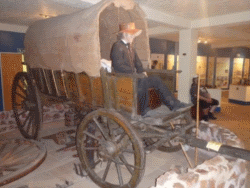 I visited Mukhanyo College where Bryson works and to join in the chapel service.  How breathtaking to hear the voices, without music, singing glorious hymns.
I had so many excursions on my holiday including visiting a rose garden farm; Cullinan Diamond Town;, 6 storey high shopping malls; visiting a magnificent game park outside of Pretoria; cable car ride up the side of a mountain.  Yes so many memories.
On my last day, May advised we had "two hours to spare" and, of course, we went back for a final look at Nelson Mandela's monument.– this will stay with me for the remainder of my life.
Just a wee prayer to thank God for the life of one of the world's greatest statesman,  Nelson Mandela.     Amen.