Another busy quarter has passed since the last magazine update from Mearns Kirk Helping Hands.  We have launched some new activities, recruited some new volunteer roles and started the journey towards a couple of exciting new partnerships—all of which contribute towards our key aims of reducing isolation and loneliness and improving health and wellbeing for people in our community.  And in March we held our AGM, with keynote speaker Ken McIntosh. You can read all about this and more below.
In January, following consultation with both people who already attend some of our groups, and other organisations working locally who are in contact with people who might benefit from activities which help to reduce stress and improve wellbeing, we decided to trial a 5 session block of Tai Chi.  We were fortunate that a qualified local tutor with lots of experience was available to run some sessions for us. Over 40 people attended the first class!  As the weeks went by it became clear that there was enough interest and demand to continue the classes beyond the planned 5 sessions, and so we ran sessions once a week until the Easter break.  Feedback from the group at the end of the course indicated that those taking part were using skills and  techniques learned in the group in their daily life, leading to increased feelings of relaxation and overall improvements in fitness and wellbeing.  Others commented on having made new friends as a result of coming to the group. It is anticipated that the classes will restart in the autumn when we return to our lovely newly refurbished halls.
In keeping with the theme of improving health and wellbeing we also partnered with RAMH (Recovery Across Mental Health) in February to provide 8 sessions of "Fit 4 Sport" offering tasters of different fitness activities including badminton and bocca.  The sessions were well attended and those who participated fed back that they felt that their fitness levels had improved by coming to the group, as well as having fun and meeting new people.  RAMH are keen to come back later in the year to provide further sessions.
On the last Wednesday in MARCH we held our first Cancer Support Group meeting, with input from staff from the Cancer Support Network. Since then we have had two further meetings; in April we had some very interesting and useful input from a qualified nutritionist.  In our May meeting we had guest speakers from Macmillan and, in June we will have input from a member of staff from the Maggie's Centre. The group meets on the last Wednesday of each month from 2pm to 3.30pm; we share tea, coffee and home baking, then have time to hear our speaker and for the group to talk about anything they wish to share with one another using a Peer Support approach.
During the refurbishment, the group is based in Newton Mearns Parish Church Halls.  If you, or someone you know, might benefit from the group all are welcome; you can just turn up on the day or use the contact details to get in touch for more information or to let us know you would like to attend.
In March we also ran our first 6 session Tablets for Beginners programme, in partnership with East Renfrewshire Culture and Leisure Trust.
The classes were fully booked, and feedback indicated that all those who attended picked up lots of useful information to help them feel more connected using technology.  The group also really liked the pace at which the tutor led the group and the comprehensive handouts to take away so they could continue to practice what they had learned at home.  Classes covered topics such as emailing, accessing ebooks and magazines, online shopping and security and using apps.
On Saturday 30th March we held our AGM, with Ken McIntosh MSP as keynote speaker. Robert Paton, Chair of Trustees for Mearns Kirk Helping Hands, set the tone with an introduction and welcome speech, followed by a speech from Rev Joseph  Kavanagh as a Trustee of the Charity.  Joe described the inspiration behind the work of MKHH "the desire to demonstrate love, kindness and compassion to those most in need in our community".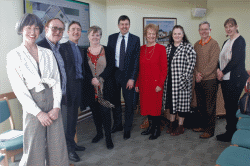 Vicky Attwood (Project Manager) and Laura Watts (Volunteer  Coordinator) then gave an overview of work undertaken by Mearns Kirk Helping Hands throughout 2018 and plans for the charity for 2019 and beyond.  Ken McIntosh then gave an informative and inspiring talk about how the work undertaken by the charity, particularly by our volunteer team, shows a creative and committed response to wider social concerns and challenges being faced across the country.  You can access a copy of our Annual Report on our website on the Governance page (website       address is in the contacts below), or you can email or phone and we can send a copy to you.
In March Vicky attended training to become a "Playlist for Life" Help Point Coordinator.  "Playlists for Life" is a charity which was set up by Sally Magnusson following her mother's dementia diagnosis, which supports family members and carers to use the power of music as a way of connecting with people living with dementia.  When we return to the halls in the autumn we will advertise monthly "Cuppa Times".
These are times when people can come in for cup of tea and a chat about how to put together a playlist and how to access all the wonderful resources Playlists for Life provide.  If anyone is interested in being involved in "Cuppa Times" and has a basic knowledge of accessing music online, please contact Vicky;     details below.
We are also currently in discussions about partnership working with "Sporting Memories" a charity which provides discussion groups aimed at (but not exclusively for) men, particularly for those with dementia or who are experiencing social isolation.  This fits nicely with another key aim of Mearns Kirk Helping Hands which is to increase the number of men who access our groups and activities.  We will also be launching an     activity aimed at improving diet and nutrition as well as reducing isolation for men in October 2019, for which we have been funded by Eat Well Age Well's "Small Ideas, Big Changes" grant scheme 
In April we have been delighted to welcome a new administration volunteer to the team.  This is a new role which we successfully advertised via our partners at  Voluntary Action East  Renfrewshire (VAER).  Masooma will be based in the office with Vicky and Laura and will help for a few hours each Friday with  various administrative tasks.
Our "core" groups, the Eastwood Bereavement Support Group, the Friendship Club, The Lunch Club for People Living with Dementia and the Blether and a Brew have continued to provide high quality support,  companionship and enjoyment to those in our local community.  The Bereavement Group have had new participants join by successfully advertising the group in the VAER Marketplace in the Avenue Shopping Centre, and by communication with the newly appointed Link Workers employed by RAMH and based in local GP practices.  Their ongoing success also gave us an excellent model on which to base the running of our Cancer Support group.
The Lunch Club is again running at full capacity, and there are lots of lovely outings planned for over the summer period.  The partnership with Mearns Primary School is going strong and group members continue to visit the school on Friday afternoons for fun activities with our nursery years friends.  The Lunch Club is based in Albertslund Halls during the refurbishment.  The Friendship Club is rounding off another wonderful season of good company, afternoon tea and entertainment for up to 75 people each fortnight with afternoon tea at Parklands on 7th May. The Club will start again on the 10th September.  The Blether and a Brew will continue once a fortnight on Tuesday afternoons from 2pm to 3.30pm in Broom Church Halls throughout the   summer from Tuesday 14th May.
Over the summer we will also be running two blocks of 4 session "A Helping Hand for Wellbeing" programmes.  These comprise of 4 one and a half hour long sessions looking at how diet and mood are connected; how our thoughts and feelings are linked; how exercise can improve our mood and ways we can feel more connected with our community.  Booking is required and spaces are available on second block beginning in July.  Details are on the website or please get in touch for more information.  We are grateful to Asda in the Avenue Shopping Centre for donating use of their Community Room for these programmes.
To round off, as ever, a HUGE thank you is due to all our wonderful volunteers for the help and support they give to Mearns Kirk Helping Hands. Without all of you committing your time and talents each week we would not be able to provide all the excellent activities we do.  We will be   hosting a special version of Blether and a Brew on Tuesday 11th June to mark Volunteer Week.
Our annual volunteer celebration party will be held later in the year when we return to the Halls.  are also just about to start work towards becoming an accredited Volunteer Friendly Organisation, demonstrating our ongoing commitment to providing an excellent experience for all our volunteers.
As I write this the sun is shining; let's hope it continues throughout the summer and I will look forward to updating you all again in the autumn.
Best wishes.
Vicky
Vicky Attwood
Project Manager
Mearns Kirk Helping Hands
hello@mkhelpinghands.org.uk
www.mkhelpinghands.org.uk
Tel: 07585 5227667